Engineering Management
VISUAL helps you maintain complete, current and historical configurations on all assemblies in the manufacturing process.

It's flexible structure allows you to create, copy and edit bills of material (BOM) by simply clicking on the assembly requiring the component part. VISUAL also maintains both the standard routings and bill of material for each manufactured item, and ties the two together so that materials, fixtures, tools, or outside services can be designated as to where they are needed in the standard routing.

The system provides a revision-sensitive structure for tracking, cost roll-ups and material planning functions. Its real-time integration with shop floor scheduling is then used to determine which items need to be built or purchased, based on demand from the assembly work order.
Engineering Change Control
The Engineering Change Notice (ECN) module allows you to establish controls and manage the process of making changes to documents and drawings, parts, Bills of Material (BOMs) and routings, work orders, and projects.
Create an ECN process flow with multiple ECN user groups and notification systems.
Generate and track ECN tasks and apply electronic signatures for approvals and task completion.
Track ECN and revision history on all parts, documents, bills of manufacture, work orders, and projects.
Maintain an audit trail of changes to the ECN record throughout the change process.
Apply engineering changes to some, or all, relevant in-process work orders.
Prevent transactions against parts and in-process work orders while they are under ECN control and notify engineers and production personnel of pending changes.
Update part or document revision levels automatically upon incorporating changes.
The Manufacturing Window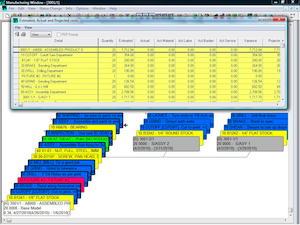 Click image to enlarge
The Manufacturing Window is the master engineering and production management tool within VISUAL.

The full-color, graphical interface allows you to create an engineering plan or Bill of Material (BOM) quickly and easily, then use the design to automatically create a quote and/or work order.

The display and reporting features of the Manufacturing Window provide a unique and comprehensive view of the materials and operations involved in the engineering process. The Manufacturing Window integrates seamlessly with the material planning, purchasing, and scheduling tools within VISUAL to provide the ultimate control over inventory, costs, and resources.

Comprehensive tracking tools offer complete as-planned and as-built data from the highest level of summarization to the lowest level of detail for each individual transaction for accuracy in your cost roll-ups.
Create, view, and modify engineering plans using a graphical display with point-and-click technology
Choose your view for the Bill of Material and routings, either graphical or text, single or multi-level, hierarchical, or split-window. Or you can define up to six custom views with color-coding and size options.
Display a costed Bill of Material with estimated, actual, variance, and projected costs.
Perform "what-if" scheduling, availability checks, and material netting with the option to generate purchase orders.
Display a history by revision level for the Bill of Material.
Automatically create quotes and work orders.
Drill down to view labor and inventory transactions without leaving the Manufacturing Window.
Shop Floor Control
VISUAL is a closed-loop Manufacturing Execution System (MES) providing complete control of all your production process, from the time a work order is added to the system, to the time the order is complete.

It offers you complete shop floor control through seamless integration of all its features, including inventory control, material and labor tracking and reporting, purchasing, and scheduling.

VISUAL ensures consistency and accuracy throughout the shop floor, from the time a work order is added to the system, to the time the order is complete, you can monitor status, productivity and evaluate all production costs.
Quickly generate work order travelers that include work instructions, linked files, design documents,drawings and specifications.
Capture and analyze all labor, material, burden, and service costs charged against each work order. Shop Floor Control
Schedule orders individually or collectively to monitor the load on your shop floor.
Generate dispatch lists for your work centers.
View the immediate status of completion for a job.
Receive to stock or ship from the floor.
Ensure accurate inventories by linking purchased materials to work orders.
Manage material requirements by the job, by stocking levels, or a combination of both.
Manage and conduct your business based on up-to-the-minute information, a result of seamless integration of order entry, inventory, production, shipping, and invoicing.